Cielo in the Community
Keep Austin Beautiful  — Adopt a Street Program
Since 2008, Cielo has adopted a section of  Lamar Boulevard to Keep Austin Beautiful.  Whether its picking up trash or planting flowers, Cielo employees gather at least four times per year to Keep Austin Beautiful.  To date, Cielo has removed over 250 bags of trash off the streets. Partnering with the Keep Austin Beautiful Adopt-a-Street program is a perfect fit with Cielo's earth stewardship. KAB provides resources and education to inspire individuals &
 the Austin community toward greater environmental stewardship.
Cielo Wind Power joins The Clean Air Force of Central Texas as a Clean Air Partner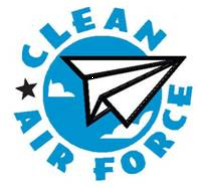 As a Clean Air Partner, Cielo commits to reducing its ozone-causing emissions by 10% within three years.  Through commute solutions programs and other strategies, Cielo commits to educating and encouraging its employees to consider clean air options to help reduce unhealthy, polluting ground-level ozone in Central Texas.   Joining other major employers in the Central Texas region, Cielo is proud to participate in a cleaner environment for those living in and around Austin.
Cielo Wind Power and our Community
Local Spending History
Increase to Tax Base
Payments and Tax Revenues to Rural School Districts
2008 Wind Power Conference Houston
Party
Booth
2008 Cielo Wind Power Coloring Contest
Cielo Wind Power sponsored a wind power coloring contest for children ages five and up. The 12 winning entries were selected to be in our 2009 Cielo Wind Power calendar. Below are the entries from our talented group of artists.

2005 Barbados Cook-off
no images were found
2003 Wind Power Conference
Children's Environmental Health Institute (CEHI)
In 2003 during the American Wind Energy Association's annual WINDPOWER conference, Cielo Wind Power hosted a hospitality event for conference attendees and our friends in Austin. Robert Earl Keen played for a packed house at Stubb's BBQ Restaurant. The event helped raise over $1,200 for the Children's Environmental Health Institute, an organization established to identify, validate and develop solutions to address adverse health effects in children suffering from exposure to hazardous environmental substances. To find out more about CEHI click here.